Film, Video & TV Production Studios with Green Screens and Galleries and Direct Satellite Uplink for Hire In West London.
Radio Studio and Music Recording Studio Also Available!
RPL has one large and one small TV / film studio with green screens and control room galleries, a video editing suite, a music recording studio and a radio studio, all based at our headquarters in Acton, West London, available for hire at very economical rates, 24/7.
Our facilities include plenty of free parking, wifi, kitchen, green room and large reception area.
We have a wide range of extras available that you might need for your shoot, including cameras, lights, BDL autoscript prompter heads and software, projectors, monitors, stands, clamps, gels, flats, polys, greenscreen cloth, audio equipment, and a range of consumables.
We have also sourced and regularly provide more comprehensive lighting requirements, motorised turntables, greenscreen treadmills. See our rate card for more information.
We can also provide experienced crew to help with your shoot, including camera, sound and autocue operators, directors, production assistants and runners. Contact us to find out how best we can serve your needs.
All studios are available 7 days a week, 24 hours a day.
See below for complete lists of the equipment available in each of our fully equipped studios.
TV Studio 1
Studio Dimensions
25' x 40' (7.6m x 11.5m)
1000 square feet (92.9m²)
Height to grid: 11' 4"
Cyclorama Cloths
White Cyc Curtain 10' High
Large Green Screen Area with Infinity Cove
Vision
3 x Panasonic AWE680E Widescreen SDI Cameras with CCU
1 x Vinten Pro-PED with Vinten Fluid Head
1 x BDL Prompter
1 x Sony 12 Channel SDI Switcher with 2 M&E Busses and 4 Outputs
3 x JVC 42" Plasma Monitors
2 x Barco Vivaldi SDI Quad Splitters
2 x Barco 42" Colour Monitor
1 x Sony BVM-2010P 20" Grade 1 Colour Monitor
1 x Oxtel / Miranda Frame Store
1 x Sony DSR45P
1 x Sony DVD Recorder
1 x Quartz SDI Router
1 x Evertz Production Timer
Sound
2 x Rode Gun Microphones
4 x Audio-Technica AT8351 Lavalier Microphones
2 x Sennheiser EW300 Radio Lavalier Microphones
4 x Presenter Earpeices and Tubes
Large range of Neuman, Sennheiser, Beyerdynamic and Audio-Technica microphones available on request
1 x Soundcraft Delta Mixer with 18 Mono 6 Stereo Inputs and 4 Groups
1 x Klark Tecknic DN504 QUad Limiter
1 x TSL PPM / Monitor Unit
2 x Sennheiser EW300 Radio Mic Receivers
1 x Tascam MH40 Headphone Amplifier
1 x TC Electronics Finaliser Limiter
1 x Marantz PMD331 CD Player
1 x Quad Amplifier
2 x Soundcraft Studio Monitor Loudspeakers
1 x Drake Micro Compact Talkback
Lighting
6 x 32 Amp Dimmer Pack with DMX Controller
5 x Rank Videolux 6 Tube Cold Lights
1 x Rank Polaris Mod 260 1kWatt Fresnel Spot
3 x Arri 500 Watt Fresnel
12 x Rank Coda 500 Watt
5 x Rank Aturo 1250 Watt
5 x Rank Mini Iris 1
Plus Floorlights
TV Studio 2
Studio Dimensions
25' x 25' (7.6m x 7.6m)
625 square feet (58m²)
Height to grid: 9'
Cyclorama Cloths
Blue Cyc Curtain 8' 4" High
Vision
3 x Panasonic AWE600E SDI Cameras with CCU
3 x Satchler Tripod and Dolly
1 x 37" Sharp Aquos Plasma on Unicol Trolley
2 x JVC 42" Plasma Monitors
2 x Barco Vivaldi SDI Quad Splitters
2 x Barco 42" Plasma Monitor
1 x Ikagami TM20-20R Colour Monitor
Sound
4 x Presenter Earpieces and Tubes
1 x Soundcraft 8/4/2 Audio Mixer
1 x TSL PPM / Monitor Unit
1 x Tascam MH40 Headphone Amplifier
1 x TC Electronics Finaliser Limiter
1 x Tascam MD301 MD Recorder
1 x Klark Tecknic DN504 Quad Limiter
1 x DBX Stereo Limiter/Compressor
2 x Yamaha NS10M Active Studio Monitor Loudspeakers
Large range of Neuman, Sennheiser, Beyerdynamic and Audio-Technica microphones available on request
Many other microphones in stock
Lighting
1 x Manfrotto Lighting Grid
6 x 16amp Rank Strand ACT6 Digital Dimmer Pack and 100 Lighting Controller
5 x Rank Videolux 2 Tube Cold Lights
2 x Rank Mizer 500 Watt Fresnel Spotlights
2 x Arri Stands
Range of Coloured Filters
Video Edit Suite
Complete Video Editing Suite including:
1 x Dual Screen Mac G5 with Final Cut Pro
1 x Audio Monitoring


Radio Suite
Complete Radio Editing Suite including:
1 x D & R Lyra Digital Console with up to 32 Inputs
Wide range of microphones, including Neumann U87 and Rode Broadcaster
1 x 360 Digicart / E
1 x Adobe Audition 3.0
1 x Focusrite Platinum Voice Processor
1 x TC Electronic Finalizer Limiter / Compressor
1 x Telos One Digital Telephone Hybrid
2 x Technics SL1200 MKII Turntables
1 x Numark CDN450 MP3/CD Dual CD Players
1 x Denon DN-790R Dual Cassette Deck
1 x Fostex D10 DAT Recorder / Player
Pro-Tools Music Studio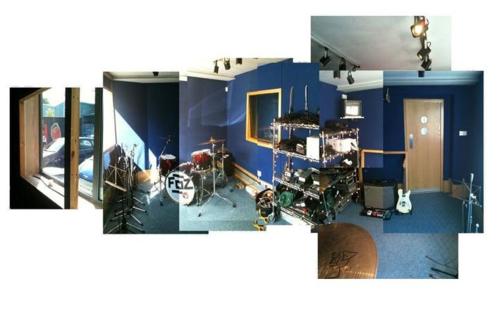 Complete Pro-Tools Music Studio including:
1 x Mac-based Pro-Tools System
1 x Soundcraft Delta Mixer 24 Channels 4 Groups
Monitoring
Yamaha NS10 Monitors
KRK 9000B Monitors
Beyer DT100 Headphones
Large Range of Mics including:
AKG C1000S
Audio Technica ATM-63HE
Neumann U87
AKG Solid Tube Valve Mic
B+K 4000 Omni
Rode Broadcaster Mic
Rode NTG3 Rifle Mics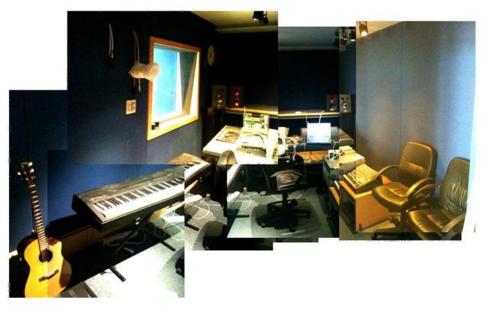 Outboard
Neve 2254 Vintage Limiter / Compressor
Pultec MEQS Valve EQ
BBC Response Selector AMI/9/131 Vintage EQ
2 x Aphex Expressor Compressors
TC 2290 Dynamic Digital Delay
Audio & Design Paragraphic E950-RS EQ
Eventide H3000B Ultra Harmoniser
TC1280 Stereo Digital Delay
Lexicon MPX100 Dual Channel Processor
Lexicon PCM70 Digital FX
Lexicon MPX1 Multiple FX
TC Electronic DB Max
Bel BD-805 Stereo Delay Sampler
Yamaha SPX1000 Multifx
AMS DMX 15-80S Stereo Digital Delay
AMS DMX 15-80 Digital Delay
CRL Audio Voice Processor
Drawmer MX60 Front End One
Drawmer MX50 Dual De-Esser
2 x BSS DPR-404 4 Channel Compressor / De-Esser
Floor Plans
Please click to enlarge
(Specifications are subject to continual upgrading and change without notice)